Of Queens and Hope: A Loan Officer's Story
I always liked her name. Reine. Queen. A name like that affects how you carry yourself. Head held high, a clear, steady gaze and a determination that has carried her through life.
"Ever since I was little, I've never viewed life like everyone else," Reine says. Reine has always seen things differently. She is one of our loan officers at HOPE Congo, and her story begins here in Brazzaville, where she was born, fortuitously, to a mother named Espérance. "I was very shy," says Reine about her elementary school self. Rather than going outside into the bustling, chaotic world of Brazzaville, Reine preferred to stay at home. Some of her favorite times growing up were spent at her grandfather's house, working in his garden in the bright sunshine, tending to the vegetable plants and chasing chickens around the coop.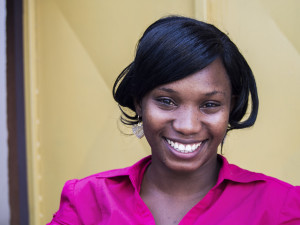 Reine breaks into a huge smile as her mind drifts back in time, "He would read aloud to us," she remembers, "…things on grammar, and afterwards he would rewards us (for answering correctly) with eggs! Eggs fresh from the farm. So for dictating for example, we would get an entire palette of eggs. It was in a family environment that I grew up in…I didn't really grow up with friends. It was more with my family. My grandfather, my mother, my sister, and my boy cousins."
Despite the golden glow of her grandfather's farm, life is not easy for a young girl in Brazzaville. From a very young age, Reine learned that life is full of choices, and destructive power of making a bad choice. With a father who was never around and a mother often off with others, Reine dedicated herself to her studies. "When I looked at the lives of those who came before me, I didn't want to be anything like it" she remembers. It was when she was still a student that Reine became a Christian, changing how she viewed life.
God surrounded me with people who helped me to grow up spiritually. That's what helped me to have dreams, to be better, to more forward. Because I don't want make the same mistakes as others, recreate their stories. I want to write my own story."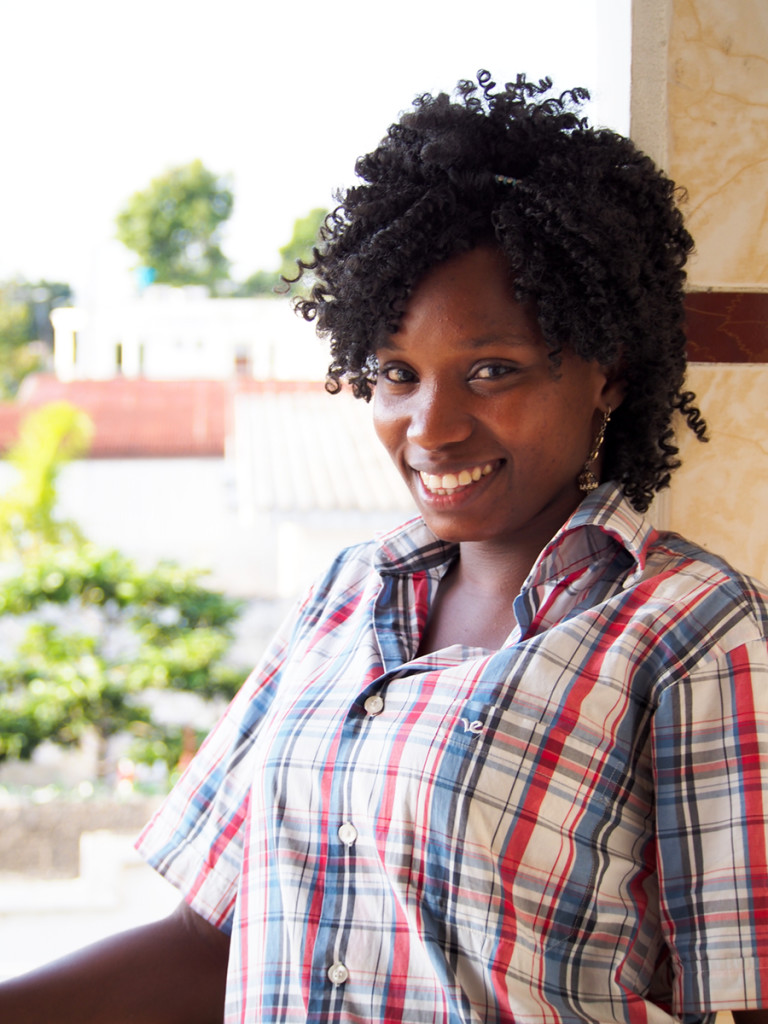 Reine has done just that. From that moment of realization that choices make up a person's life, Reine chose to dedicate herself to her studies. She sped through elementary and high school, taking her BAC exam a year early when the option was given to her and passing. Then came another big challenge: university. The public university system in the Republic of Congo is, quite frankly, a wreck. There are too many students and not enough teachers or classrooms. Often for classes starting at 7am student must arrive at 4am to get a seat inside the classroom. Still others listen through the windows, frantically taking notes from what they are able to hear. The only alternative is private school, and it doesn't come cheap.
For an 18 year old who is also helping her mother out, university was expensive. In order to pay her school fees every month, Reine began working. She put herself through her first few years of college by running her own business selling household linens and towels. When I asked why she went into household linens, she simply replied, "It doesn't go bad." Unlike selling fruits and vegetable in the market, Reine could simply pack away her goods and the end of the day and take them out the next day. Yet gradually, working and going to school full time took its toll. Her business and her school were on opposite sides of the city. In order to make a profit she would have to stay in the market after classes started, and she began to fall behind in her work.
"I didn't want to stop. I wanted to finish. I did both for a while- I went to school and I worked…but it took time and working wouldn't allow me to continue my studies." So Reine stopped going to school.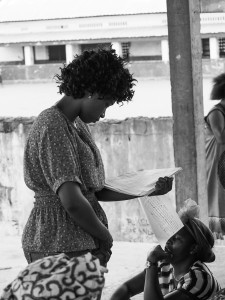 It was a market day much like any other when a woman walked past her stand and then stopped short. She pointed to a word written in chalk on the wall above Reine's wares. It was a simple word, oddly enough written in English- the English version of her mother's name, followed by a phone number to call Reine's mother if anyone need a supplier for gravel. It simply said 'Hope'.
The woman inquired if Reine was with HOPE Congo, since she had just joined herself. Reine replied that she was not, sparking a conversation about who and what HOPE Congo was. Reine began attending the training sessions where she fell in love with HOPE's pairing of the Bible and finance; "I think it was on our fourth training session where I was fascinated by how, through bible verses, she [Loveline*] could teach on finance. For example, we looked at the parable of the ant (Prov. 6:6-11)."
Reine was in a community bank group for one cycle, which is how she became aware of a job opening at HOPE Congo. Dropping off her resume to become a cashier, a call came one day about an open loan officer position. Now Reine has been with HOPE for over a year as a full time loan officer. When asked what she likes most about her work at HOPE, Reine answered, "The fact that we put everything in touch with the Word of God…Here we have all this time to read the Bible. Here in the office we also have contact with clients all the time. That's what I love."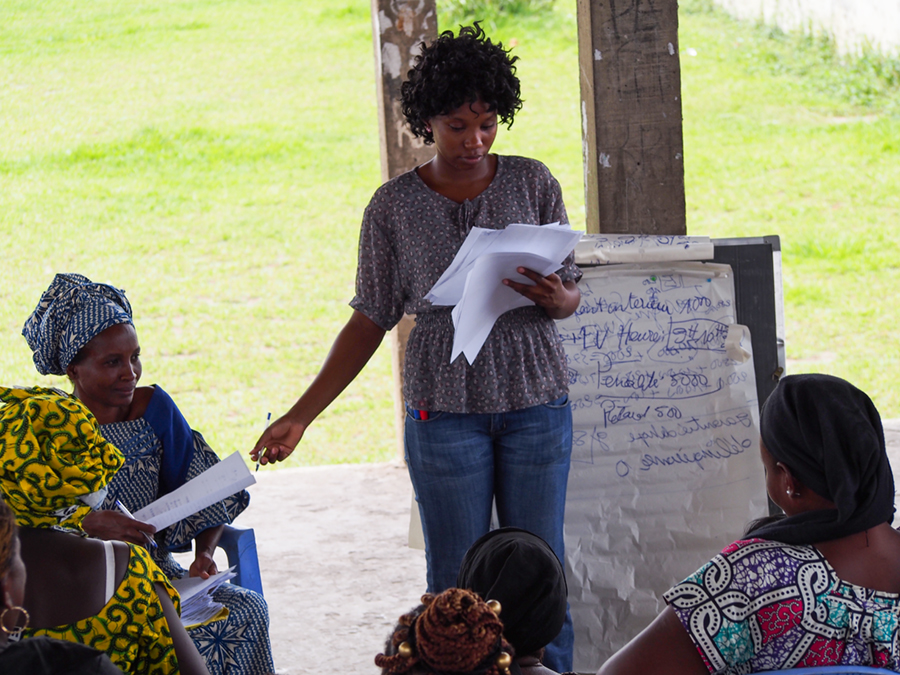 Reine's love for the Lord and determination to create a better future is reflected in her other passion- caring for orphans in Brazzaville. HOPE Congo works with Good Friends Ministry (GFM), an organization dedicated to helping orphans that live with other family members, and are often seen as a burden. GFM provides them with food such as rice and frozen chicken to take home, transforming the orphans in the eyes of their extended families into someone who brings in resources instead of just draining them. Reine's dreams for the future are to eventually go back to school and one day open up a home for orphans. She hopes to provide them with a solid education to be able to move forward in life. "In the future," Reine says, "I would like to bring something to my country." In my eyes, she already has.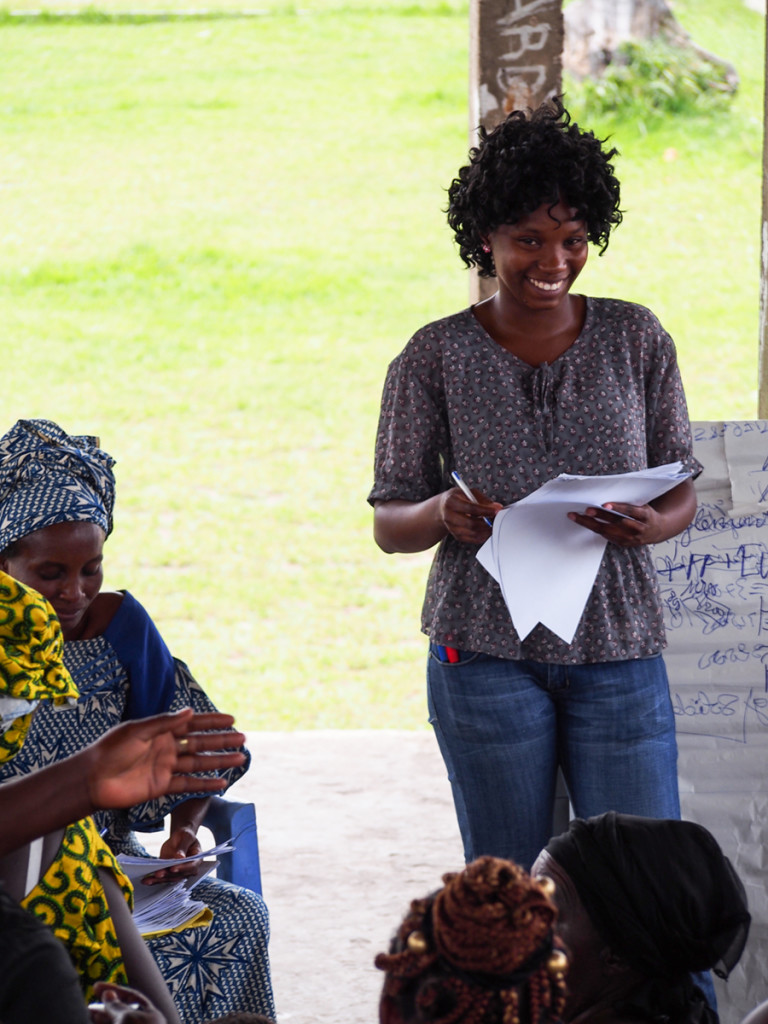 *Loveline is the Client Relationship and Training Manager at HOPE Congo