Catching my Breath – Part 2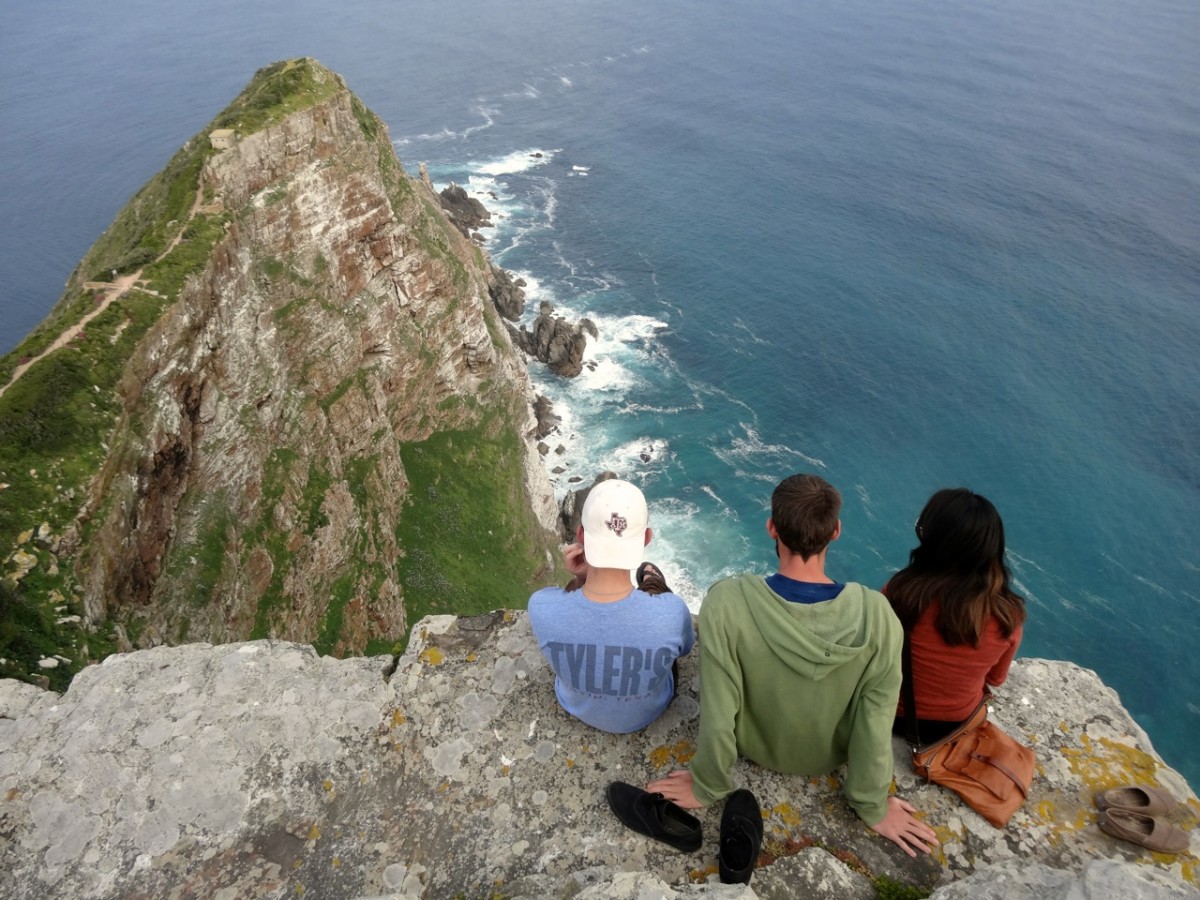 We stayed at a hostel in Cape Town for a week and easily could have stayed longer. After being so used the routine of living in Brazzaville where there is very little time or opportunity for leisure activities, Cape Town appeared as a treasure trove of things to do.
What better way to start out your time in a city than climbing above it? That first hike up to Lion's Head took our breath away in more ways than one. It was approximately a three-hour hike up and down, winding around the mountain in a spiral until we reached the top. It seemed as though every time we turned around another bend, yet another view of paradise presented itself. Near the top the path splits- you can either climb up with the help of metal chains and staples bolted into the mountain, or you can take the longer but less intimidating route to the top. We decided in these situations, one should always try to emulate Indiana Jones. By the time we finally reached the top, we felt both thoroughly accomplished and out of breath as we looked out over the incredible panoramic view of Cape Town.
From the top of Lion's Head we were also able to see how much bigger and more majestic Table Mountain was behind us. Approximately 1km high and 3km long, Table Mountain looms like a protective sentinel over the city below. It was also pretty clear how this new Wonder of Nature got its name- the top is a flat plateau of rock, shrubbery and golden flowers. Several days after our hike up Lion's Head (as we let our legs recover) we fixed our eyes on Table Mountain. Let me tell you we earned that view. It took us about three hours or so to hike to the top, the majority of it going straight up a ravine. Luckily we had Charlie's riddles to take our minds off the pain in our legs, and the natural beauty of the trail surrounded by rocks and wildflowers wasn't too bad to look at either. As we reached the top of the ravine, music trickled down the mountain: the earthy melodies of a wooden marimba. As we got closer we discovered it was a young man who had climbed up to his current perch, raining music down on hikers. The melody seemed to fit perfectly with the landscape, echoing in the ravine off walls of solid rock and floating up like mist. The climb was, in a word, intense. We consider ourselves young, relatively in shape individuals- and there was a point a few hours in where we started taking water breaks every 5-10 minutes. But the hike up it truly what makes you appreciate the natural beauty that much more. Upon reaching the summit we drank in the view below feeling as though we had just accomplished a great feat of endurance.
The natural beauty of South Africa and Cape Town was by no means limited to the surrounding mountains however. We took several trips up and down the coast over those few days. One such trip took us winding along the coast to Hermanus where we saw several enormous Southern Right Whales from the shore. Our real mission that day was somewhat more adventures than whale watching however. We paid a rather personal visit to the famous white giants of the deep…great white sharks. There are not many places in the world you can go swimming with sharks, and we figured this was a once-in-a-lifetime sort of experience. We saw two great white sharks that day, and we both amazed at their size and at the reminder that we all go swimming in oceans where these powerful creatures swim freely.
South Africa is also famous for its vineyards, and we got to spend one beautiful day driving through wine country. Green rolling hills covered by miles of vineyards, mountains in the distance and trees all around. We could have easily stayed for several days. Driving through Stellenbosch we stopped in the town of Franschhoek in which we were treated to possibly the best homemade peanut-butter ice cream of our lives. Food is something well worth mentioning about Cape Town as well. For me, the first thing I noticed about food was that everything was incredibly less expensive than Brazzaville. Less expensive, but with incredibly variety and quality- it was well worth saving up for a few nice meals out!
The very last day in Cape Town we drove all the way to Cape Point, the most south-westerly tip of South Africa is also home to a beautiful national park around the Cape of Good Hope. The drive in and of itself was stunning: jagged cliffs plunging into the deep blue and turquoise ocean, long white beaches with waves lapping at the shores and small towns full of leafy green trees. Along the way we saw horses, baboons, antelope, ostriches and whales. There was one last hike up to the cape's lighthouse and then we had an incredible view of the peninsula behind us. In front of us the Atlantic Ocean disappeared into the horizon where it would eventually meet the Indian Ocean. To cap off a beautiful day, we even got to see some wild penguins playing on the rocks as the sun set.
With over 24 hours of travel ahead of me to get back to Brazzaville, I was the first in our group to leave. Our trip to South Africa had been an incredible break full of beauty and friendships. It was great to catch up with the other HOPE Fellows and make new friends along the way. Having such a wonderful time in Cape Town also made it hard to leave, with each of us knowing what we were going back to. Yet despite our reluctance to leave our piece of paradise, the trip was exactly what we all needed. It was a time to relax, to soak in the beauty of Africa in a new way and recharge our batteries for the second half of our fellowship. I needed that energy too; my return to Brazzaville would mark the start of a fast-paced two months including two of the biggest events HOPE Congo has ever put on: our Annual Client Day and opening our first ever branch office. Time to dive right in.