Catching My Breath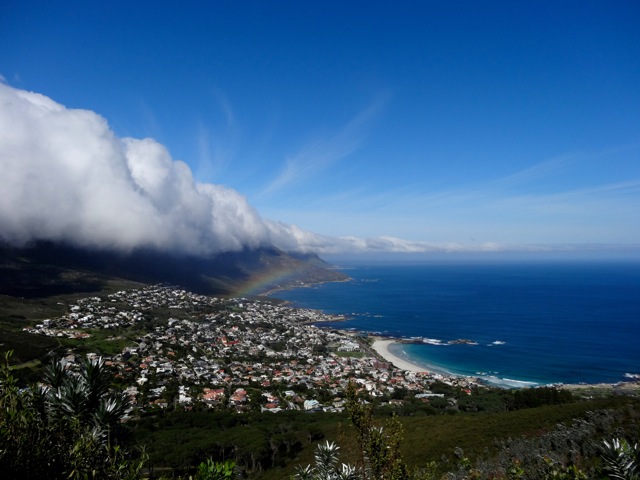 Clouds cascaded off the cliffs like a waterfall, flowing down the rocky mountain and touching the rainbow of wildflowers in shades of bright red, yellow, purple and blue. It was so green here. I felt like I was on top of the world, looking down on the city nestled between the deep blue and turquoise sea and the mountain I had just climbed. Breathing in the crisp faintly salty air, I had somehow stumbled into paradise in the form of Cape Town, South Africa.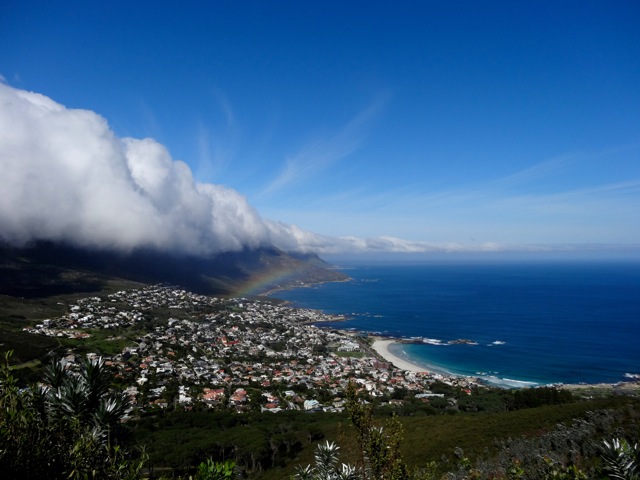 It had been strange to find myself sitting on a plane again, feeling that familiar thrill of going somewhere new. Life in Brazzaville for the past few months had swept me away in a whirlwind of busyness. I had finally started to find my feet in a pattern of meeting and interviewing clients, getting to know and photograph them. I excitedly received my first big marketing project focusing on Jean's story and went back to follow up with more questions and video work. Graphic design work appeared in the form of brochures and certificates. I also suddenly found myself solely in charge of HOPE Congo's first ever donor visit – nine people were coming from one of HOPE's partner churches. Everything from food to hotels, transportation and repeated calls to clients to create as much of a schedule as you can in Congo followed. HOPE Congo is opening a new branch and I began to help however I could- a branding audit and searching for paint colors (no easy task in Brazzaville).
Weekends passed by in a series of wedding invitations from colleagues (a blog post to come on Congolese weddings) and making new friends from the US Embassy. Running in the morning, salsa lessons several times a week in the evenings and planning for a trip to a new country, days rushed past until I suddenly found myself on a plane leaving the Republic of Congo for the first time in six months. Joanne, the Field Communications fellow from Rwanda, had invited Drake (the fellow in Zimbabwe) and I for a trip together with her friend Charlie from Rwanda to Cape Town. One of my goals for this year is not only to explore and learn about Congo-Brazzaville, but also to take advantage of being on the African continent and visit other countries along the way. This trip to South Africa sounded like the perfect opportunity- falling halfway through my time in Brazzaville, a time to catch my breath before diving into the second half of my year here.
In all honesty, I needed some time away. After months of immersing myself in a different language and culture, it was a beautiful thing to talk and sing in English, buy a decent cup of coffee and simply not stand out as much as I usually do. That may have been the greatest gift my brief trip offered- blissful anonymity.
The extremely wonderful Fynes-Clinton family had to deal with my awe at arriving in Johannesburg, protecting Drake, Joanne and Charlie from the worst of it. At first I kept trying to speak French with everyone, before remembering that in fact not all African countries speak French. My eyes were glued to the window as we drove around, drinking in the sight of clean, paved streets without the constant presence of people sweeping up dust. I could drink the tap water and even use my debit card instead of cash. Walking into a grocery store was overwhelming; there were so many options and everything was so cheap compared to Brazzaville.
With only two and a half days to spend in Joburg, I enjoyed my time staying with a family again. Dinners together overflowed with stories and laughter as we crowded around their kitchen table, and I found myself beginning to talk with a South African accent. Johannesburg is certainly a city of contrasts. On the outskirts where I stayed with the Fynes-Clintons there was a nature reserve nearby where you could literally walk among the animals. Seeing zebras, antelopes and wildebeests I felt like I was inside the Lion King – minus the lions. From nature reserves to craft markets, modern malls and shopping areas like Mandela Square to slums on the outskirts of the city. We saw Nelson Mandela's house and the area where the Freedom Charter was adopted; I visited the Apartheid Museum and realized that I have much to learn about this country's history.
Yet perhaps one of the most interesting and random occurrences was getting to meet Walter Sisulu's grandson who pulled us into a free movie screening. A prominent leader of the ANC, Walter Sisulu was imprisoned alongside Mandela on Robben Island for 25 years. We just so happened to be exploring one of the new artsy areas of Joburg when Shaka Sisulu called us into an independent film theater as we walked by. Offering us free popcorn, pizza and drinks, we couldn't refuse. Titled "The Frontline States" the documentary was a glimpse into a different side of the story of South Africa fight for freedom from apartheid and is part of a project called the African Oral History Archive. Once again I was met with the feeling that I have so much more to learn, the need to immediately pick up a book on South African history to better understand this country and its past.
If Joburg was a great break, it was quickly left behind in comparison to Cape Town. I felt as though I was transported into a modern European city but with the beauty and warmth of Africa.
– Continued in Part II –