A Life of Service: Jean's Story
It was a Wednesday and I had been there before. I learned it had been a house once – but that was before the war. Destroyed by arms and bombs, the land had been reused. Now it was a church that seemed to claim defiance over its past life with the name "Victory and Life." We were waiting for the president of the community bank group, and he was walking to the meeting. Normally, walking in Brazzaville is unremarkable. Everyone either walks or takes one of the green taxis or buses. Yet with Jean Djembo, I soon discovered that everything was remarkable.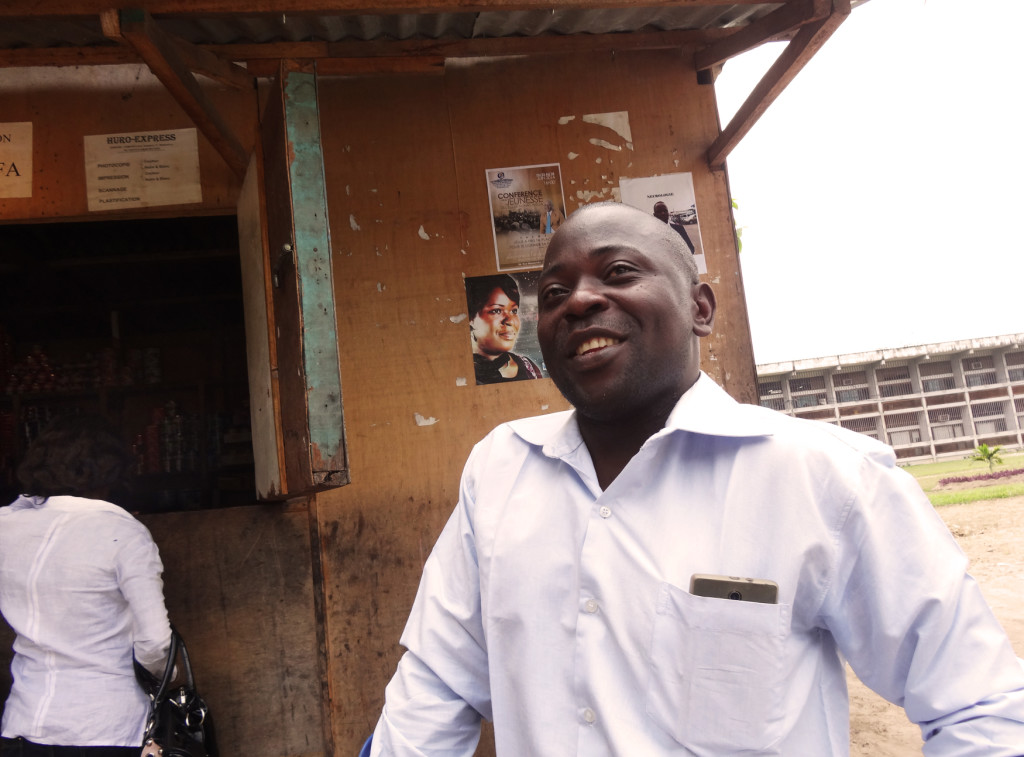 His day starts at 4am. At 4am when the city is still dark and even the time-challenged roosters are sleeping, Jean wakes up for the first of the bread deliveries to his two small shops on the university campus in Brazzaville. The shop is small, but full of goods to sell. The back serves as a storage area for additional bottles of water and soda while the front holds all the material needs of students. Shelves line the walls, stocked with canned milk, sardines, tomatoes, spaghetti, candles, soap, pens and more. On the campus where Jean himself was once a student, classes start at 7am and students arrive beforehand in the morning for breakfast. Some order a half a baguette with chocolate, some prefer peanut butter (a Congolese specialty) and yet others request bread with sausage or cheese.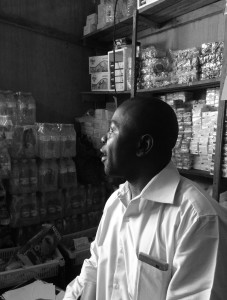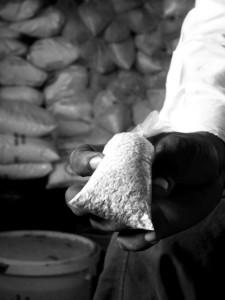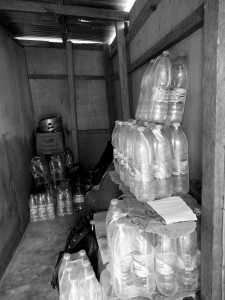 Jean's shop is called "Boumtchis Premier", a combination of his younger brother's names: Boumbéa and Tchissambou. It was Boumbéa who convinced Jean that he could open this store. The brothers are originally from Pointe Noire, but came to Brazzaville to study.
My father told me I had to succeed in school…My mother told me I had to go into business. I promised them that I would succeed in both.
Jean arrived in Brazzaville first, pursuing a degree in Biblical Studies in order to grow in his faith and better understand the bible. Unfortunately, while studying in Brazzaville, both of Jean's parents passed away in Pointe Noire. Jean went home for the funerals, but said he decided to stay in Brazzaville, "If I had to go back (to Pointe Noire) it would have been a burden on my older brothers and sisters, so it was better to stay here."
This is where I started to discover Jean's humble, empathic nature combined with a sense of creativity and ambition. He started forging his own path, capitalizing on the fact that the Congolese love to talk. Buying phone credit is a daily activity here, and people love calling each other from before sunrise to far past sunset (I've received both of these). Most Congolese have at least two phones on different networks if not more. That way people can still talk even when one network is down! Jean opened a small phone stand allowing people make a phone call for a few cents a minute, taking advantage of the Congolese love of exchanging news or pleasantries.
Jean's brother Boumbéa came out to live with him in Brazzaville while pursuing his own studies and Jean moved on from phone services to a small food kiosk. It was here that he learned about HOPE Congo. A friend of Jean brought him to an informational session about HOPE, but it was Boumbéa who convinced him to go for it. He took out his first loan of 250,000 CFA ($500) and purchased more stock for his stand. Three more time Jean took out a loan, each larger than the last until he was able to build a small store on the university campus. All the while, Boumbéa encouraged him, "He [Boumbéa] had the vision. I had a little stall. He told me, "Why not? In relation to your revenue, you could do more than that." He motivated me and motivated me constantly until I opened the store."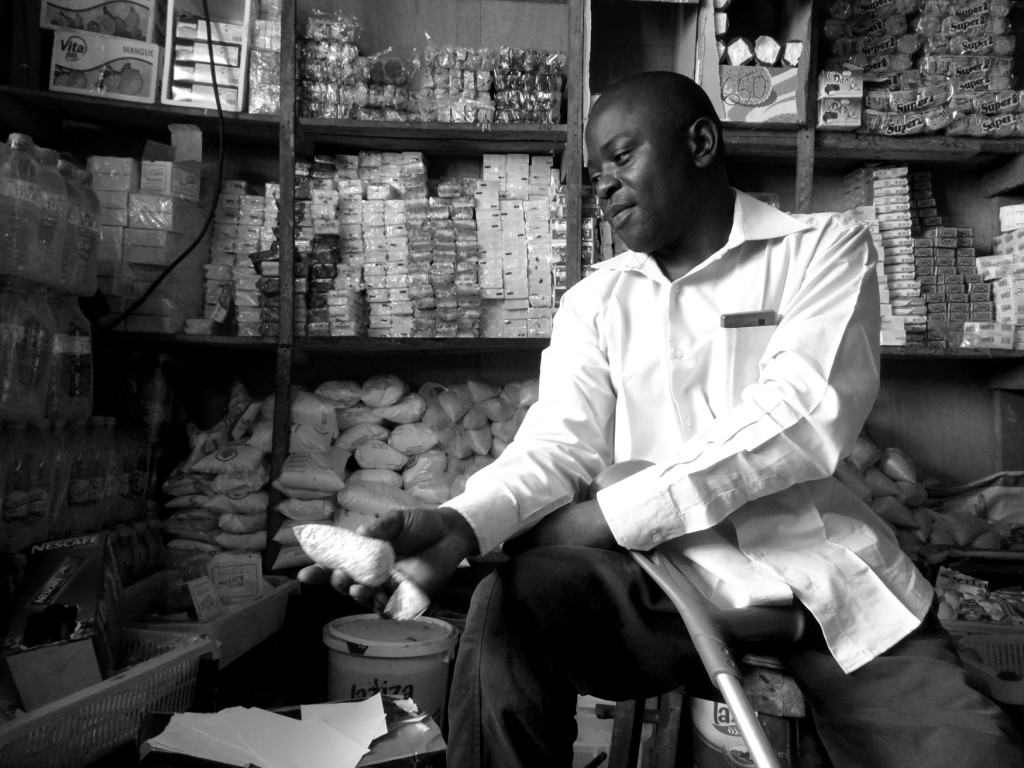 Business grew. Jean quickly became a trusted face to students and nearby vendors alike. Two loans later, Jean branched out to the taxi industry. Purchasing a taxi, he employs someone to drive the car around the city taking on clients and gets a percentage of the earnings. In 2013 he opened a second shop near the university and has two employees. Neighbors became curious about Jean's success and started learning from him. Jean told them about HOPE, and now there are fifteen vendors eager to join as soon as they reach 25 people and can form their own group.
This is a leader of his community, peers and students. Jean helped local vendors, often students, get started with small business like photocopying or printing. Even now Jean buys his large tubs of homemade peanut butter from students giving them some income. These small business activities are not only serving the needs of university students, but also provide income and employment for neighbors and local market vendors.
It was just before the afternoon rush when I visited his shop in an open courtyard of dirt and sparse grass. Students chattered outside going back and forth from class to nearby apartments, and I learned that despite all his business success, it is his 'younger brothers' that he is most proud of. In Jean's own words,
I take in students, young boys that come from my region [Pointe Noire] and don't have parents nearby… I take care of them here, make sure they eat. And all of them have succeeded! …. Whenever they're in the area they come and visit me again. I simply tell them that I didn't take them in because I had to, God is the one who placed me in your path, and so I did what was set before me. The rest is up for you to do for other people.
Over the years, Jean has taken in and mentored 20 students, four of which are currently with him. Having known the difficulties of moving to a new city alone, Jean loves being able to provide to these boys the adult mentor he wasn't able to have, saying, "I consider them like my little brothers."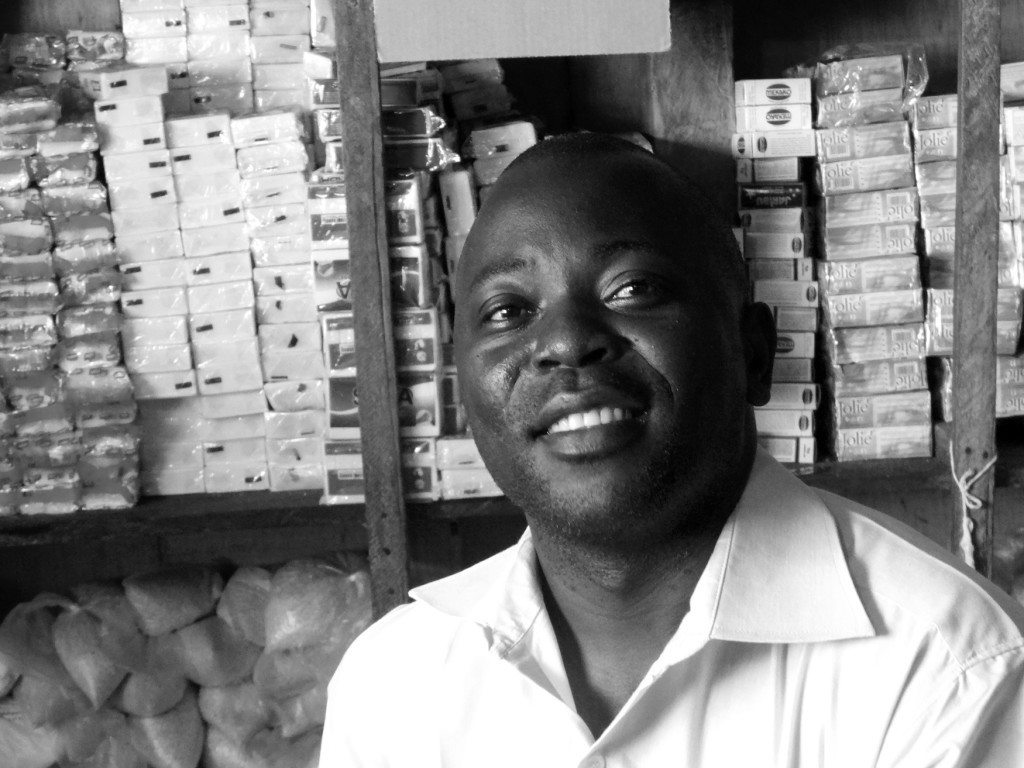 6pm. Another bread delivery comes in for the evening crowd. Jean works late, often until 11pm or midnight and then gets up early the next morning to do it all over again. Despite long days and short nights, Jean always seems alert and eager to greet customers with a smile.
With the smell of bread filling the air inside the shop Jean told me of his dreams of getting into property and construction. Slowly he'll branch out into transportation with his taxi, then he hopes to buy a bus. If all goes well, he'll buy several more buses and eventually have enough profit to launch into real estate and construction. "I don't know if it will happen," Jean says, "but I'll continue to work towards it. With the help that HOPE can offer, I think it will work out." Somehow I don't think he'll have any trouble reaching his dream having already helped so many others achieve theirs. One day he hopes to rent office buildings to HOPE!
In addition to all of the above, Jean has been championing the rights of the disabled in Congo since he was a student. In fact, he organized and led a collective of disabled students at the university. Personally meeting with government ministers, the group succeeded in lobbying the government to give disabled students a certain number of government positions every year. They've been able to fight for an increase in positions from the original 38 to 372 today.
The reason Jean was elected president of this group is two-fold: first of all because he is a natural leader, and secondly because he himself is disabled. You see, Jean can only walk with the help of two canes. That's never stopped him. Jean completely blew me away with his compassion for others, innovation and foresight. He breaks down stereotypes of what people can and cannot do and shows what it means to serve others in all aspects of your life.